This is from The Blog Entourage.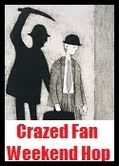 Quote:
Crazed Fan Weekend Blog Hop!
Introducing The Blog Entourage's very first blog hop, the Crazed Fan Weekend Blog Hop! It will run all day every Saturday and Sunday.
And hop however you want, but I am not going to put in the rules that you should follow back anyone who follows you. Follow whoever you want to follow, and I encourage you to only follow blogs that you are genuinely interested in reading. Then you will be more likely to go back to those blogs and comment, which will get you more genuine blogging friends and readers, as opposed to the dreaded copy and paste of "I followed you, now you follow me."
This is from the excellent ladies at For the Love of Blogs.
let's relax and mingle shall we? welcome to the weekend wander where we basically just wander to all the blogs who link up! this is open until Monday, so relax, link up and come back often to check new blogs out.
if you are new, we are super thrilled to have you! jump in and make yourself right at home! browse around, we have so many things going on! enjoy friends.
Yay - go follow some people.
Hugs Kat